Women's Basketball Renovations
Modernizing Carmichael Arena for Carolina student-athletes of today and tomorrow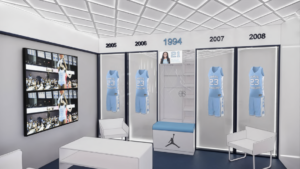 The Carolina Women's Basketball locker room and coaches offices renovations will provide critically-needed facilities upgrades in Carmichael Arena for a program making great strides both in competition and the classroom.
These renovations will enhance Coach Banghart's ability and commitment to recruit the best and brightest student-athletes, who will compete and represent Carolina at the highest level and achieve excellence both academically and athletically.
The renovations include:
Updated locker room and coaches offices
A dedicated practice gym
A space that is inviting and inspirational, building upon the legacy of UNC
A clean and elegant space
Polished and refined team areas, elevating student-athletes and their environment
Please Consider a Gift to the Women's Basketball Renovations
You have the opportunity to directly help our Carolina Women's Basketball program compete at a championship level. Your gifts will secure the ability of Carolina to attract the best student-athletes to Chapel Hill, and to give them the facilities they need to succeed. Please consider a gift to the Women's Basketball renovations.
For more information on this project, or to get involved with your own support for the Women's Basketball renovations, please call The Rams Club at 919.843.2000.
Naming Opportunities
Naming opportunities remain at the Tennis Complex and are listed in the table below.
*Naming opportunities are subject to change
| Naming Opportunities | Gift Amount |
| --- | --- |
| Practice Gym | $2,000,000 |
| Locker Room | $500,000 |
| Office Suite | $500,000 |
| Head Coach Office | COMMITTED |
| Museum | COMMITTED |
| Training Center/Weight Room | COMMITTED |
| Recruit Room | COMMITTED |
| Players' Lounge | COMMITTED |
| Conference Room | $100,000 |
| Ball Wall & Hydration Station | $100,000 |
| Team Theatre | COMMITTED |
| Assistant Coach Offices (5 of 7 available) | $50,000 |
| Scoreboard | COMMITTED |
| Education Station | $50,000 |
| Strength & Conditioning Office | $50,000 |
| Individual Lockers (6 available) | $5,000 |