Tennis Complex
A two-phase project to create a new home for Carolina Tennis
The new Tennis Complex will create an environment which maximizes the potential for student-athlete success and recruiting by including championship courts, seating and amenities that reflect the University's status as a leader in collegiate tennis. The facility will be a venue that is sought after by players, spectators, the ACC and the NCAA for hosting competition and events.
The Tennis Complex project is a multi-stage effort. The initial phases provide state-of-the-art competition courts for outdoor and indoor play as well as spectator seating and amenities. Future phases will include a team building and other support facilities.
Phase 1 includes:
12 competition and practice courts
Championship court lighting
Outdoor running turf and training area
Ample storage space for both varsity programs
Modern scoring, PA, live streaming and other technology capabilities
New fan amenities: seating, concessions, restrooms, awnings for shade
Phase 1 Expansion includes:
Foundation and roof repairs of existing indoor facility
New LED lights, scoreboard, topcoat acrylics, paint and graphics for indoor courts
Cone-Kenfield Tennis Center entry, lobby and mezzannine enhancements
New carpet and flooring
Spectator railing enhancements
NOW SERVING ... EXCITEMENT BUILDS AROUND TENNIS FACILITY UPGRADES
Men's and women's tennis are set to rev into next gear with the completion of a major overhaul and renovation of the Cone-Kenfield Tennis Center.
Construction Updates
September 2022
Rick Steinbacher, Senior Associate Athletic Director for Capital Projects and Facilities, gives an overview of progress to date including aerial views of the site construction. Click the video to watch and view recent photos below!
---
Most Recent Construction Photos
Fundraising Progress
As of December 19, 2022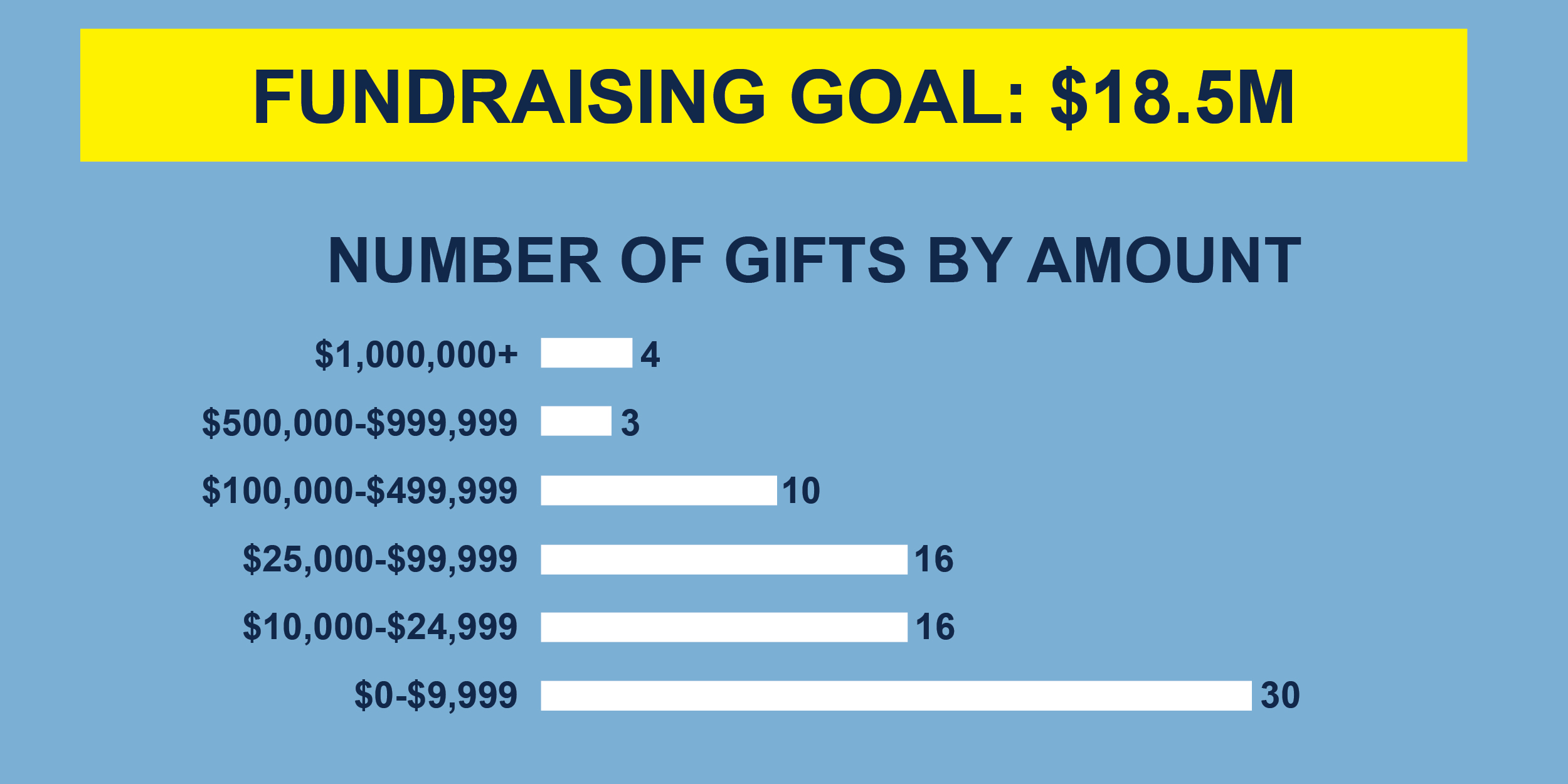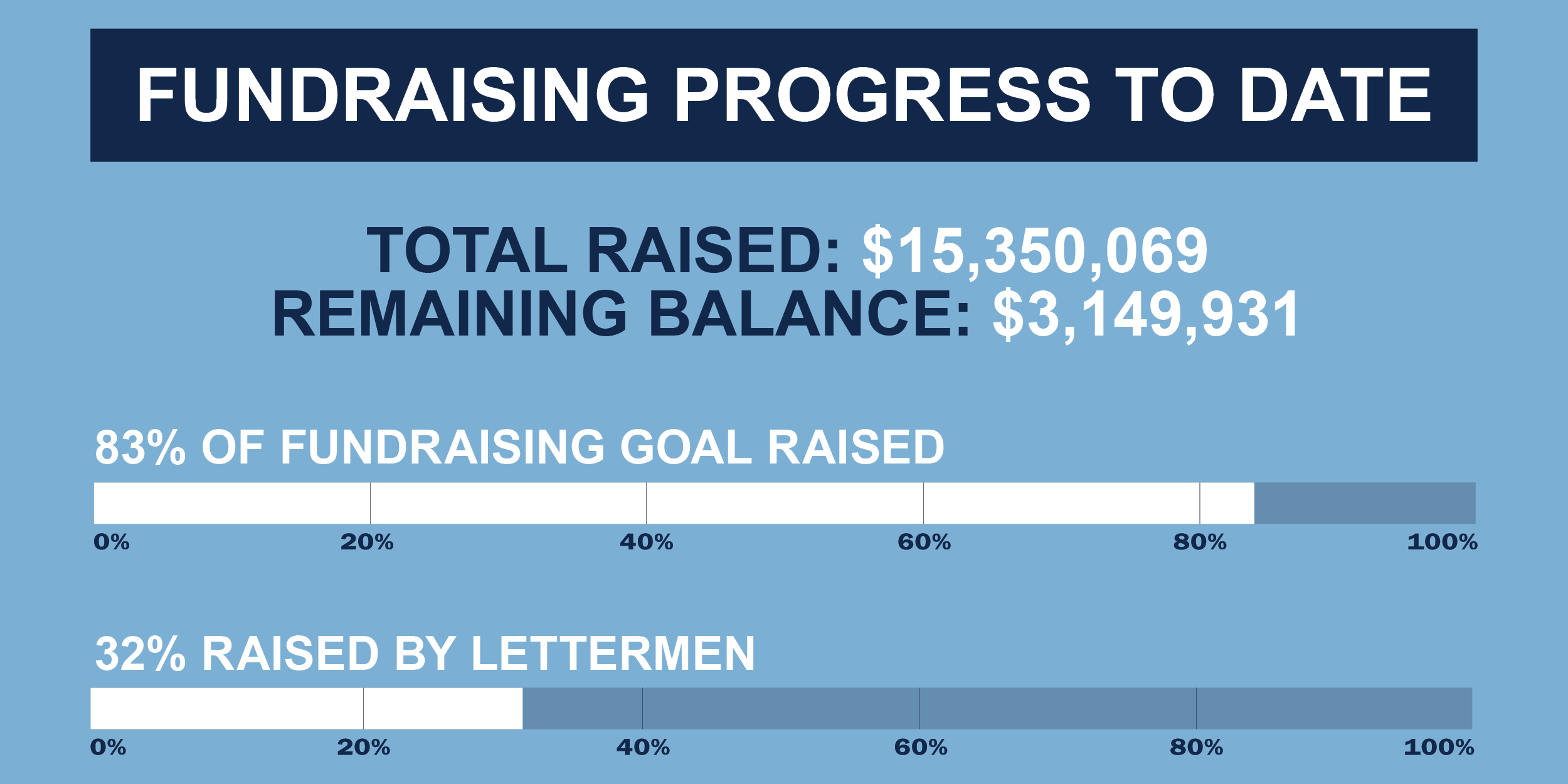 Please Consider a Gift to the Tennis Complex
You have the opportunity to directly help our Carolina Tennis programs continue competing at a championship level. The cost of the facility project is $18.5 million. Your gifts will secure the ability of Carolina to attract the best student-athletes to Chapel Hill, and to give them the facilities they need to succeed. Please consider a gift to the Tennis Complex.
For more information on this project, or to get involved with your own support for the Tennis Complex, please call The Rams Club at 919.843.2000.
Naming Opportunities
Naming opportunities remain at the Tennis Complex and are listed in the table below.
*Naming opportunities are subject to change
| Naming Opportunities | Gift Amount |
| --- | --- |
| Complex | RESERVED |
| Tennis Stadium | $2,500,000 |
| North Grandstand | $1,500,000 |
| South Grandstand | $1,000,000 |
| Practice Courts | $1,000,000 |
| Court Level Patio | $1,000,000 |
| Restroom/Concessions Building | $1,000,000 |
| Individual Championship Courts (2 available) | $500,000 |
| Entry Courtyard | $500,000 |
| Roof Terrace | $500,000 |
| Individual Practice Courts (4 available) | $250,000 |
| Entry Garden | $250,000 |