The rich history of Carolina women's athletics boasts 44 national championship titles, 49 individual national championships and two active Hall of Fame coaches. Perhaps even more impressive than this, is the inspiring collection of career paths forged by our women student-athlete alumnae. From doctors to CEOs to teachers, Carolina women have demonstrated time and again that their accomplishments in competition are just the beginning of their impact on the world.
FORevHER Tar Heels is an initiative led by The Rams Club and Carolina Athletics to celebrate and champion the women of Carolina Athletics' past, present and future.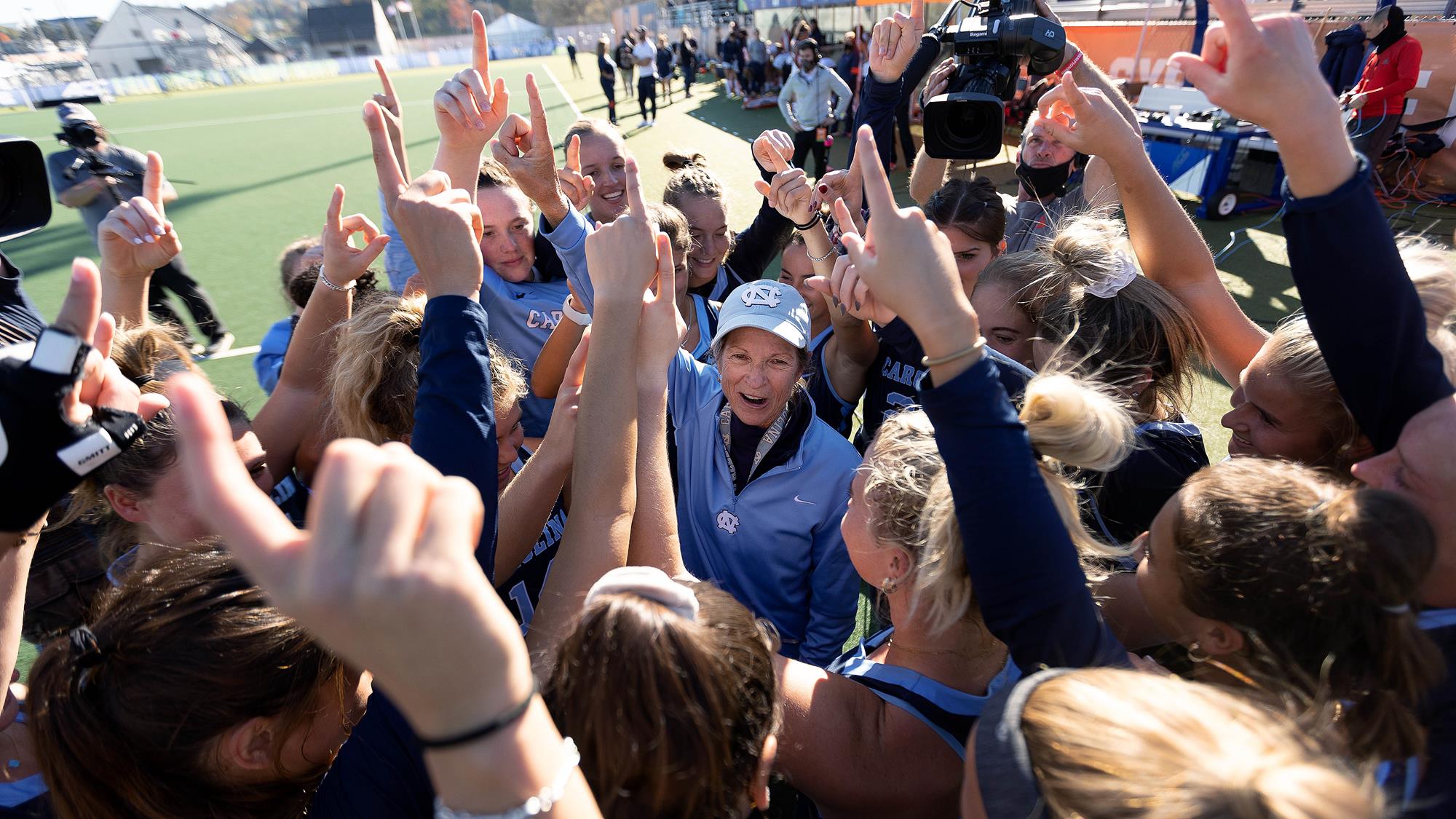 The Rams Club and Carolina Athletics aim to engage and activate a network of Tar Heels that will:
Offer opportunities to outstanding young women student-athletes to be part of the Carolina Family.
Provide resources for Carolina's women's sport programs to ensure success.
Participate in the development of student-athlete leaders who will impact their communities.
Celebrate the successes of Carolina Athletics letterwomen
Deliver the best student-athlete experience in the country!
Provide Opportunities
CHAMPION. INSPIRE. SUPPORT.
FORevHER Tar Heels is building and inspiring a Carolina community to champion our women student-
athletes through financial support of 15 teams, scholarships, facilities and a mentorship program.
This collaborative effort will enhance the Carolina student-athlete experience and allow Rams Club
members, UNC alumnae, and friends to invest their resources during some of the most formative years of
these women's lives.
Areas of Focus
INVEST TODAY FOR CAROLINA VICTORIES TOMORROW.
The fundraising priorities for FORevHER Tar Heels are: the Excellence Fund, scholarships, team support, and facilities.
---
FOREVHER TAR HEELS WOMEN'S EXCELLENCE FUND
Gifts of any amount can be contributed to this fund, which will support:
One-on-one professional mentoring and leadership programming.
Immediate needs of our women's sport programs as identified by our women's sport head coaches.
Interpersonal and professional development opportunities.
To learn about this year's Excellence Fund award recipients, please click here.
SCHOLARSHIPS
Donors to women's athletic scholarships directly participate in the development of our women student-
athletes for years to come.
FORevHER TAR HEELS WOMEN'S SCHOLARSHIP FUND
Gifts of any amount can be contributed to this fund awarded annually.
ENDOWED SCHOLARSHIP IN ANY WOMEN'S SPORT
To learn more about endowing a scholarship, please contact Emily Stevens at estevens@ramsclub.com or 919.923.2246.
TEAM OPERATIONAL SUPPORT
INDIVIDUAL TEAM GIVING
FORevHER Tar Heels donors can support any of our 15 women's teams through individual sport operating endowments (long-team support) and friends accounts (immediate assistance). Click below to give to any team today.
BADDOUR CAROLINA LEADERSHIP ACADEMY
The Richard A. Baddour Carolina Leadership Academy, the first leadership development program in collegiate athletics, provides a four-year curriculum, preparing Tar Heel student-athletes for successes on and off the field.
FACILITIES
The importance of women's athletics at Carolina is evidenced in the world-class facilities built for our women's programs since 2015, includeing new facilities for volleyball, softball, gymnastics, field hockey, women's soccer, women's lacrosse and women's track and field. Recently announced are facility upgrades for women's golf, women's tennis, and women's basketball. With each new facility, our coaches are better armed to recruit the best and brightest to Chapel Hill.
Private support enables our women's teams compete at a championship level in
these world-class facilities.
Click on each link to learn more about how you can make an impact.
We are FORevHER Tar Heels
Stories from the Carolina Women's Athletics Community
As a charter member of the Association of Intercollegiate Athletics (AIAW) for Women in 1971 and the first ACC school to offer a scholarship to a woman student-athlete in 1973, Carolina has long been a leader in women's collegiate athletics. Throughout its pioneering history, student-athletes, coaches, and administrators representing women's athletics have positioned themselves as valuable contributors to Tar Heel history. Explore their stories below as we celebrate the history of women's athletics at UNC and discover why the Carolina women student-athletes of today and tomorrow are relying on your support.
How to Support FORevHER Tar Heels
HOW WILL YOU CHAMPION CAROLINA'S WOMEN STUDENT-ATHLETES?
To learn more about how you can invest in Carolina's women student-athletes through FORevHER Tar Heels, contact Emily Stevens at estevens@ramsclub.com or 919.923.2246.