Karen Shelton Stadium
A new home for a perennial power program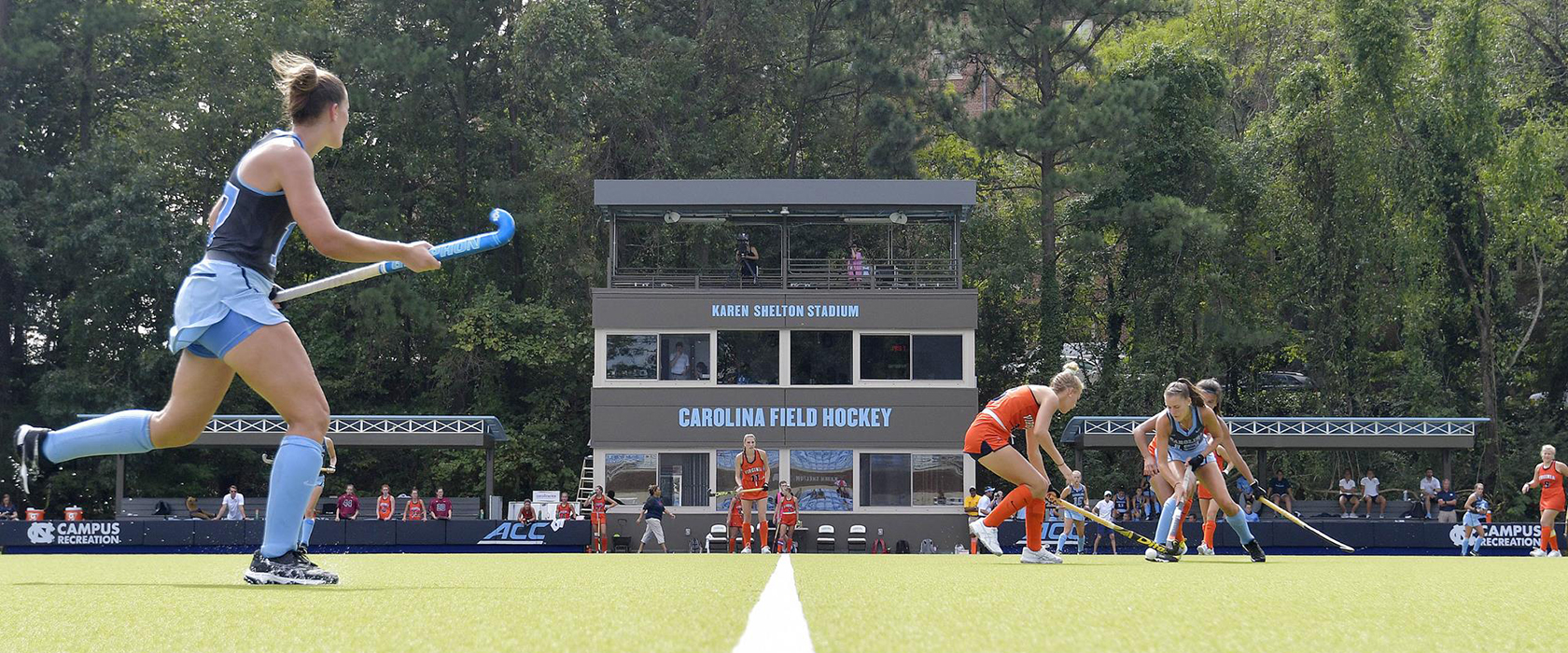 Carolina Field Hockey welcomes a new stadium on the former Ehringhaus Field site. In addition to a new playing surface and stadium, the program moves into a team building that meets the needs of today's field hockey student-athletes.
The Facility Includes:
900-seat stadium with fan amenities (concessions and restrooms)
Press and scorers box
LED sport lighting and LED video scoreboard
Team building with locker rooms, team room, sports medicine space, players' lounge, meeting space and coaches' offices
Please Consider a Gift to the Stadium
You have the opportunity to directly help Carolina's Field Hockey program continue to compete at the championship level. The cost of the new Karen Shelton Stadium is $15.2 million. Your gifts will secure the ability of Carolina to attract the best student-athletes to Chapel Hill, and to give them the facilities they need to succeed. Please consider a gift to the Karen Shelton Stadium project.
For more information on this project, or to get involved with your own support for Karen Shelton Stadium, please call The Rams Club at 919.843.2000.
Naming Opportunities
Naming opportunities remain at Karen Shelton Stadium and are listed in the table below. Click on any opportunity to see a 3D image of the area.
*Naming opportunities are subject to change
| Naming Opportunities | Gift Amount |
| --- | --- |
| Complex / Stadium | COMMITTED |
| Playing Field | $2,000,000 |
| Team Building | $2,000,000 |
| Team Locker Room | $1,000,000 |
| Grandstand | $1,000,000 |
| Outdoor Plaza | COMMITTED |
| Players Lounge / Banquet Area | COMMITTED |
| Press Box with Camera Deck | $250,000 |
| Team Theatre | $250,000 |
| Team Building Balcony | $250,000 |
| Entrance / Lobby | COMMITTED |
| Visiting Locker Room | COMMITTED |
| Coaches Locker Room | COMMITTED |
| Closing Room | COMMITTED |
| Lactation Room | $50,000 |
| Donor Board Recognition | $50,000 |
| Donor Board Recognition | $25,000 |
| Donor Board Recognition | $10,000 |
| Alumni Donor Board Recognition | $5,000 |
| Letterman Donor Board Recognition | $1,000 |