Carolina Football Projects
Expanding and upgrading the Carolina Football facility footprint
Kenan Football Center Renovation
The Kenan players' lounge, sports medicine facility, and rooftop courtyard renovations will provide critically-needed facility upgrades for a program making great strides both in competition and the classroom.
Kenan Football Center Project Goals
Create a modern, functional athletic training room to meet the needs of student athletes
Improve the Carolina Experience throughout the facility: training room, players' lounge, team areas, outdoor areas
Develop a vision for incorporation of NIL driven program and needs
Promote an expanded synergy between strength training and nutrition
Explore opportunities to create a more dynamic training table
Develop a generational facility that engages the senses and celebrates the history of Carolina Football
Locker Room, Weight Room, and Turf Renovations
Throughout our history, Carolina has been a pioneer in collegiate athletics, and Tar Heel Football is a leader in that never-ending pursuit of excellence. These updates to the locker room, weight room and turf build upon this tradition.
Kenan Locker Room and Weight Room Upgrades
Nine additional new power racks
New flooring
Updated graphics
Gatorade Nutrition Station
120 new stainless steel lockers
Personalized name and plate images
USB power supply
Improved ventilation
Custom storage for helmets and shoulder pads
Upgraded sound system
Lockable storage
Padded seats
Upgraded hydrotherapy room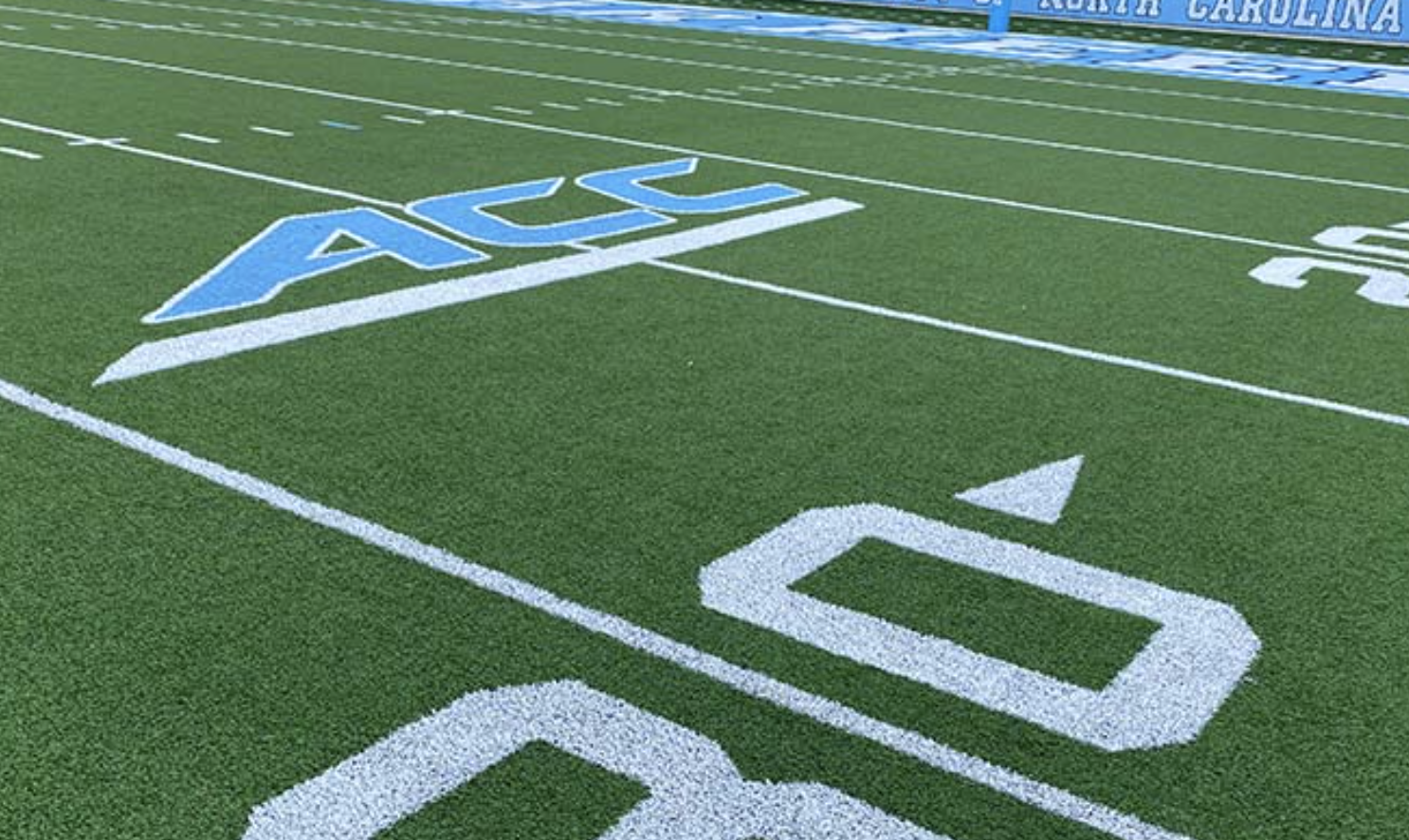 Kenan Turf Renovation
New artificial playing surface—Astroturf RootZone 3D3 Blend allows minimal infill splash
Brock pad underneath for additional player safety
Custom inlaid logos and argyle pattern
Wiring and open conduit paths under field to allow for current and future technologies (pylon cameras, goal post cameras)
Superior drainage
Bill Koman Practice Complex
As one of the best facilities of its kind in the country, the Bill Koman Practice Complex in central campus gives Tar Heel student-athletes a top-10 experience. The project showcases a significant financial commitment to the University of North Carolina.
Championship Preparation
Joining beautiful Kenan Stadium and the Kenan Football Center as part of the home footprint for Carolina Football, the Bill Koman Practice Complex brings state-of-the-art fields and practice spaces to the program. The project includes many needed upgrades and additions:
Indoor facility with 120-yard synthetic turf field for optimal preparation in all conditions
120-yard outdoor practice field with synthetic turf
120-yard outdoor practice field with grass surface
Additional space for strength & conditioning training and sports medicine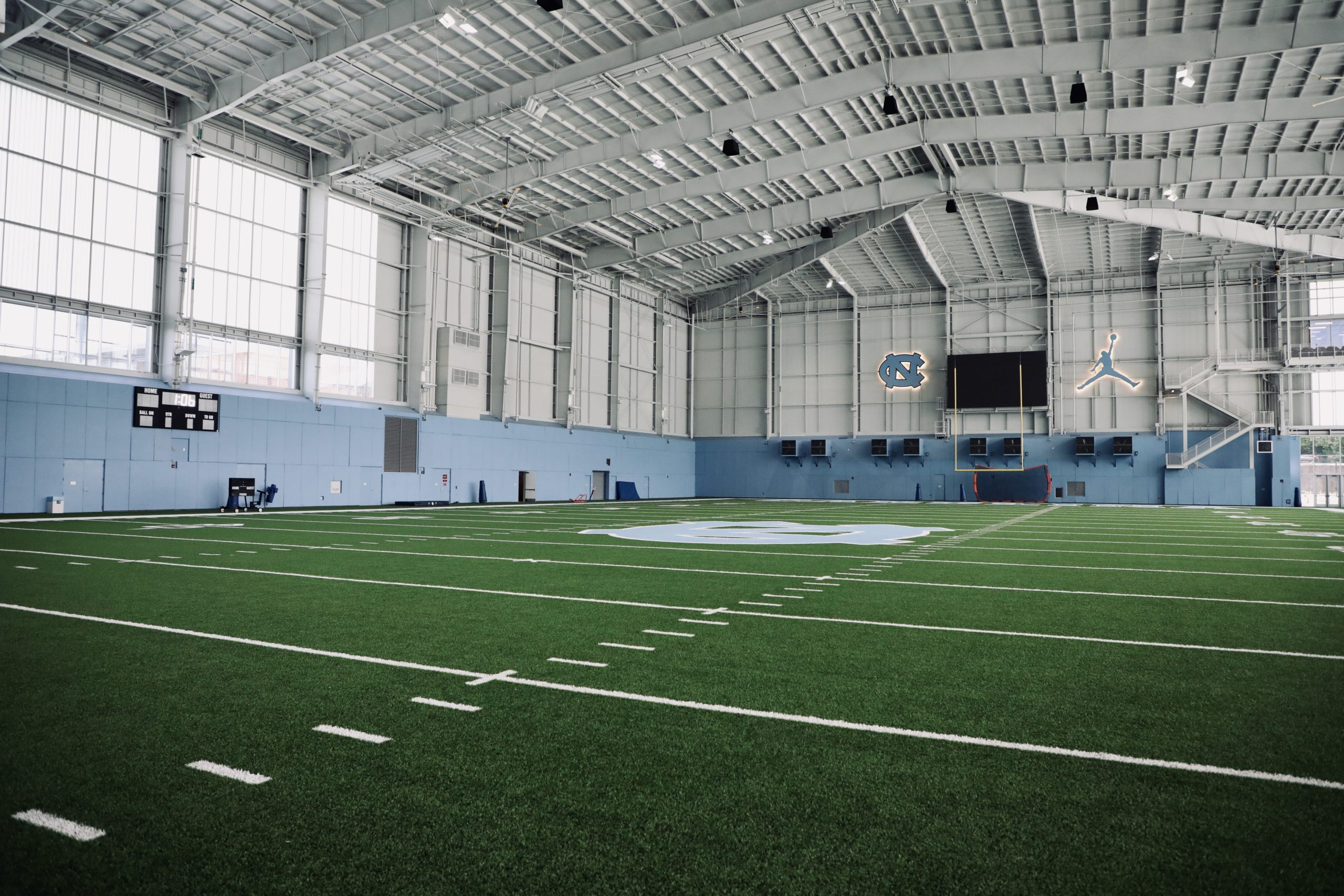 In the Heart of Campus
The Bill Koman Practice Complex is built in the heart of central campus – utilizing the space formerly occupied by the grass and turf practice fields at Navy Field and Henry Stadium. The Football indoor facility connects to the new Soccer & Lacrosse Stadium and features a pedestrian walkway that connects the southeast side of campus and central campus. The two new outdoor practice fields run parallel to the indoor facility, providing ample field space to maximize game preparation and practice efficiency.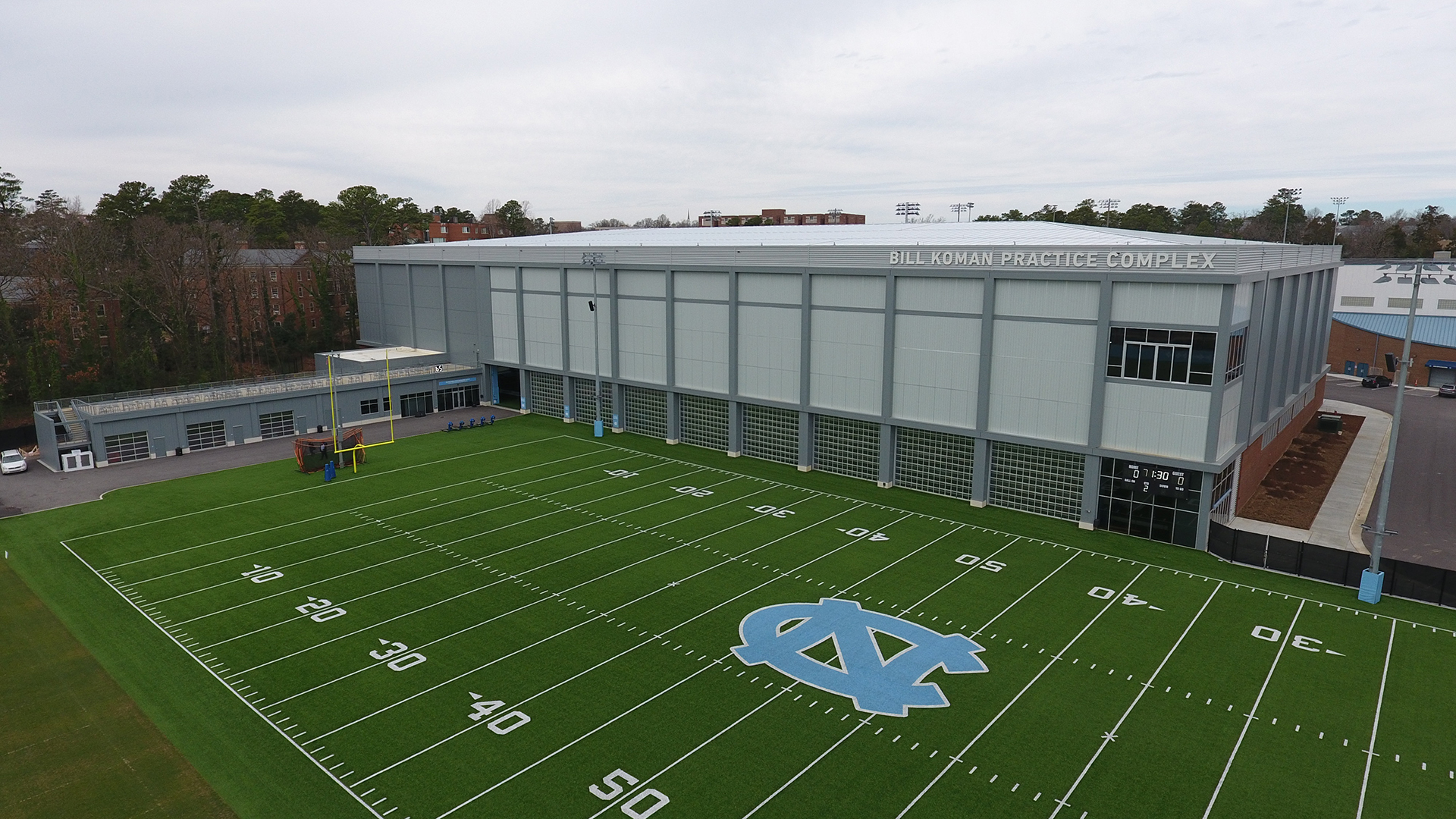 Naming Opportunities
Naming opportunities remain at the Bill Koman Practice Complex and are listed in the table below. Click on any opportunity to see a 3D image of the area.
*Naming opportunities are subject to change
| Naming Opportunities | Gift Amount |
| --- | --- |
| Football Practice Complex | COMMITTED |
| Training Building & Outdoor Observation Platform | $2,000,000 |
| Indoor Practice Field | COMMITTED |
| Outdoor Practice Field (2 of 2 available) | $2,000,000 |
| Pillar (5 of 9 available) | $1,000,000 |
| Training/Conditioning Ramp | $500,000 |
| Indoor Observation Platform | COMMITTED |
| West Entryway | COMMITTED |
| Sports Medicine Area | COMMITTED |
| East Entryway | COMMITTED |
| Film Area | COMMITTED |
| Donor Board Recognition | $100,000 |
| Donor Board Recognition | $50,000 |
| Alumni Donor Board Recognition | $5,000 |
| Letterman Donor Board Recognition | $1,000 |
Please Consider a Gift to Carolina Football
You have the opportunity to directly help Carolina Football consistently compete at a championship level. These projects are among the top priorities for Coach Brown and the football program. Your gifts secure the ability of Carolina to attract the best student-athletes to Chapel Hill and give them the football facilities they need to succeed on the gridiron. Please consider a gift to the Kenan Football Projects. Your support provides Carolina Football the resources they need to make the next critical step in building a championship program.
For more information on these projects, or to get involved with your own support for Carolina Football, please call The Rams Club at 919.843.2000.