Now Serving ... Excitement Builds Around Tennis Facility Upgrades
Men's and Women's Tennis are set to rev into next gear with the completion of a major overhaul and renovation of the Cone-Kenfield Tennis Center.
By Lee Pace, Oct. 4, 2022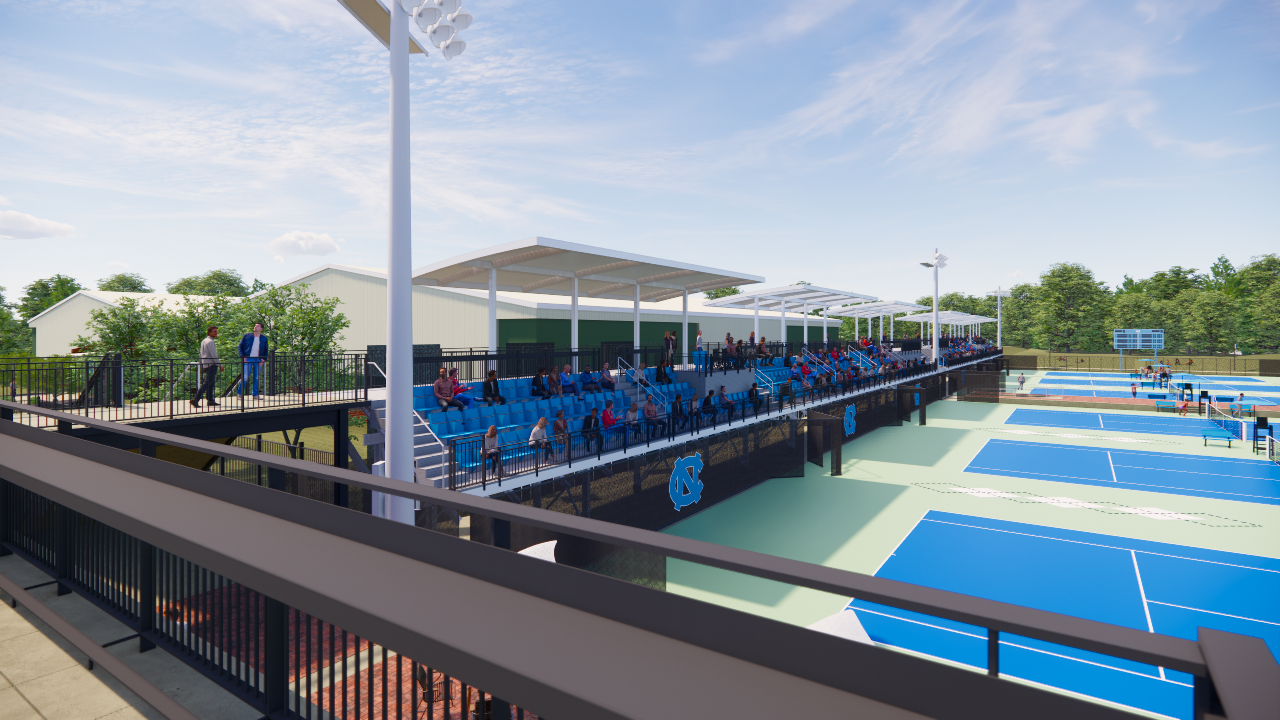 Once again in 2022, Carolina's men's and women's tennis teams have proven their mettle among the top programs in the country, and Tar Heels from both squads dotted the landscape of the collegiate and international tennis scenes.
The women's program posted a 28-3 record and advanced to the semifinals of the NCAA Championships in May before losing to Texas, and sophomore Fiona Crawley individually surged into the national semifinals. Reese Brantmeier, a freshman who's yet to don a Carolina blue jersey for an official match, competed in her third U.S. Open, teaming with Clervie Ngounoue in doubles (they lost to the No. 10 seed in the second round) in early September in Flushing Meadow, N.Y.
Meanwhile, former Tar Heel Rinky Hijikata, who turned pro in 2021, challenged Rafael Nadal in the first round of the U.S. Open, taking the first set before dropping the match in four sets, with his mother watching from courtside and getting some primo television time while wearing a Carolina tennis shirt that celebrated the Tar Heels' 2021 national indoor team title. Nicholas Monroe (Class of 2004) and William Blumberg (Carolina '21) competed separately in doubles at both Wimbledon and the U.S. Open, and Blumberg advanced to the semifinals of mixed doubles with partner Caty McNally in September. Will need to update this depending on when this actually runs. The men's team won 12 of its final 16 matches to finish 18-9 in 2022, reaching the round of 16 of the NCAA Championships for the eighth consecutive year.
This considerable prosperity of both programs is set to rev into the next gear during the 2022-23 season with the completion of a major overhaul and renovation of the Cone-Kenfield Tennis Center, located behind the Friday Center off Hwy. 54 two miles east of the Carolina campus. The outdoor portion of the $17 million project includes 12 competition and practice courts, championship court lighting and stadium seating with awnings for sun and rain cover. The indoor component includes resurfacing all six courts and fixing some structural problems that had developed over three decades.
To read more about how this major project will propel these programs forward, visit GoHeels.com.
For more about the project and to make a pledge, click here.