Mia Hamm: FORevHER a Tar Heel
October 5, 2019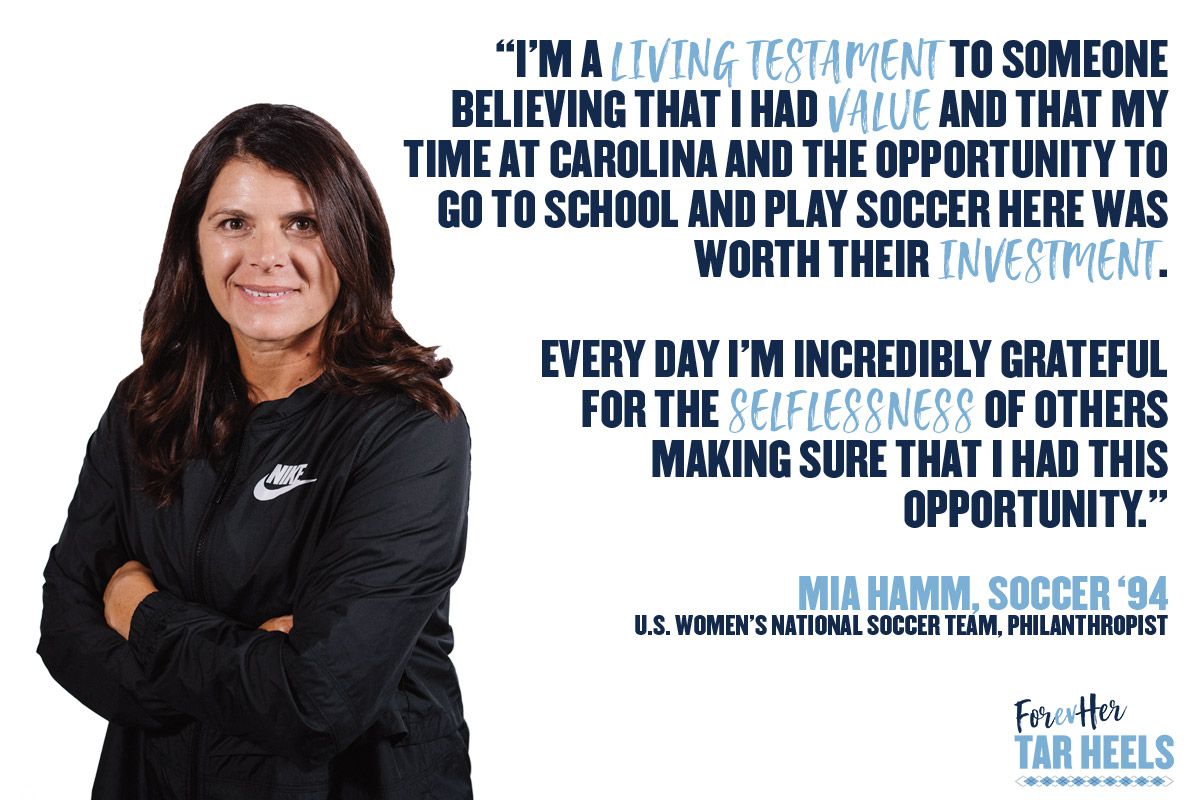 A member of the women's soccer team from 1989-1993, Mia Hamm is one of the most recognizable Tar Heels in Carolina history. She led UNC to four NCAA championships, and was named All-American and ACC Player of the Year three straight years. Leading the nation in scoring three years, she graduated with ACC all-time records for conference goals (103), assists (72), and total points (278). Hamm was a member of the U.S. Women's National Team from 1987-2004, winning two Olympic gold medals and two Women's World Cup titles, and was named FIFA World Player of the Year in 2001 and 2002.
Below is an excerpt of Hamm speaking about her Carolina experience and how donors, like those supporting FORevHER Tar Heels, made an impact on her life.
There's this kind of family kinship that happens while you're here. Your interaction with so many other sports is really special.
UNC shaped me and helped me succeed in my career and in life after college – the foundation it laid, the relationships, and the ability to persevere and deal with obstacles. This incredible academic institution and what goes with that when you say you're a graduate from the University of North Carolina holds so much weight. I'm proud of my on-field accomplishments and off the field, having my degree here from Carolina.
The FORevHER Tar Heels campaign is so important. It's about celebrating the history of women's athletics – the important role it plays creating more opportunities for the athletes that come here and making sure that we continue to not only instill the values and shape the athletic community here in Carolina, but that we give these athletes the tools to make a difference in the world. For me, the lessons and the friendships and the mentoring I was able to receive here allowed me to gain the confidence to succeed in whatever path I chose. I think so many aspects of this campaign will have lasting impacts for generations to come and it's really important to continue that.
I'm a living testament to someone believing that I had value and that my time at Carolina and the opportunity to go to school and play soccer here was worth their investment. Every day I'm incredibly grateful for the selflessness of others making sure that I had this opportunity.