Katie Loovis: FORevHER a Tar Heel
October 5, 2019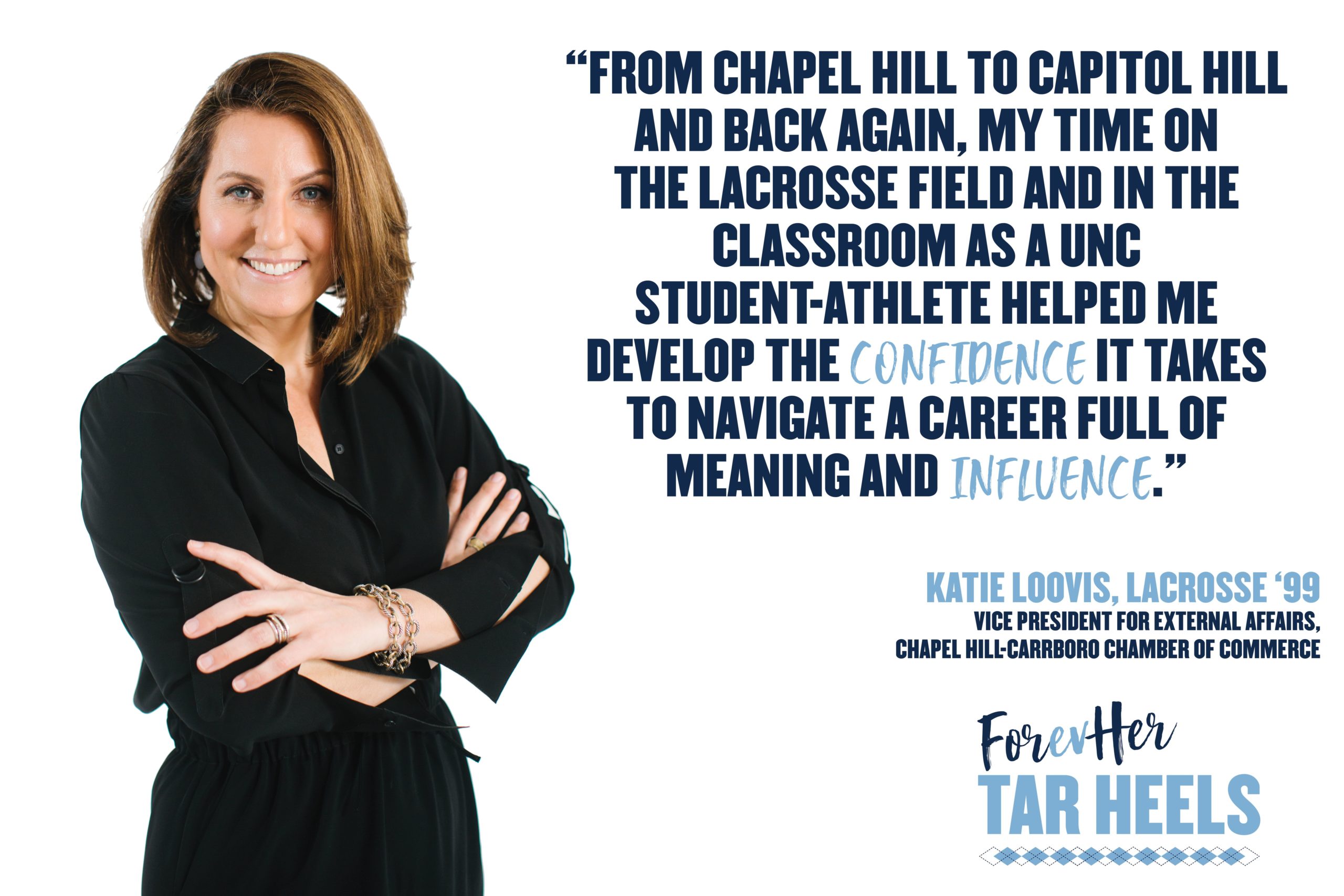 A member of the first women's lacrosse squad at Carolina, Katie Loovis' career in public service includes key roles in government (The White House), business (GSK), and the nonprofit sector (Achieving the Dream) as well as with the national and now the local Chamber of Commerce. Below is an excerpt of Loovis speaking about her experience as a UNC student-athlete and why supporting FORevHER Tar Heels not only impacts current Tar Heels, but also how it will enrich the lives of donors.
The FORevHER Tar Heel campaign – my perspective on it is a little bit unique, because I was a part of the first recruited class for the women's lacrosse team in 1995. And back then, there were very few Division 1 women's lacrosse teams across the country. Carolina was one of the first schools out of the gates to invest heavily in women's athletics, particularly lacrosse, and I was a beneficiary of that. The University was one of the first in the country to build a stadium for women's lacrosse and hired a fantastic coach from whom I learned so much– Jenny Slingluff Levy. And so, for me, the campaign is special, particularly now, because I'm in a position where I can be a part of it and give back.
Carolina is a very special place to be a student-athlete, in particular a female student-athlete. You come here, and the place drips with excellence. When I was a student-athlete here, we actually lifted weights in the men's football weight room, and I was surrounded by athletes who were training for the Olympics. We had folks from the track team, the women's basketball squad, the men's football team – they were all right there. And you couldn't help but push yourself harder and exceed any expectation of what you were capable of doing. I think that shared spirit of excellence in the athletics here and academics is something that's inspiring for student-athletes. And what I really loved was that the University treated women's athletics and men's athletics similarly. We were held to the same standard, same expectations. They expected wins out of us. Anything less than a Final Four was unacceptable. And that felt good, that we were expected to win. We wanted to win. We competed hard. And, we were rewarded for it. The University invested a lot of resources in our program – the women's lacrosse program – and I'm so grateful for that.
This campaign is really important because it's not just going to help the student-athletes, it's going to give something special to those who take part in it: the donors, the volunteers. How many people can say that they go into the locker room and get to hear the coach pep talk? Or how many people can say that they got to spend a day at their workplace with a student-athlete shadowing them, or go on campus and share your experiences and lessons learned with a student-athletes who are really hungry to learn from you, and to think about that transition from the field and the classroom to the professional world?
I think that there's just as much about giving in this campaign as getting, and I think that shared experience is really going to be a meaningful and memorable element of the FORevHER Tar Heel campaign.