Jenny Levy: FORevHER a Tar Heel
October 5, 2019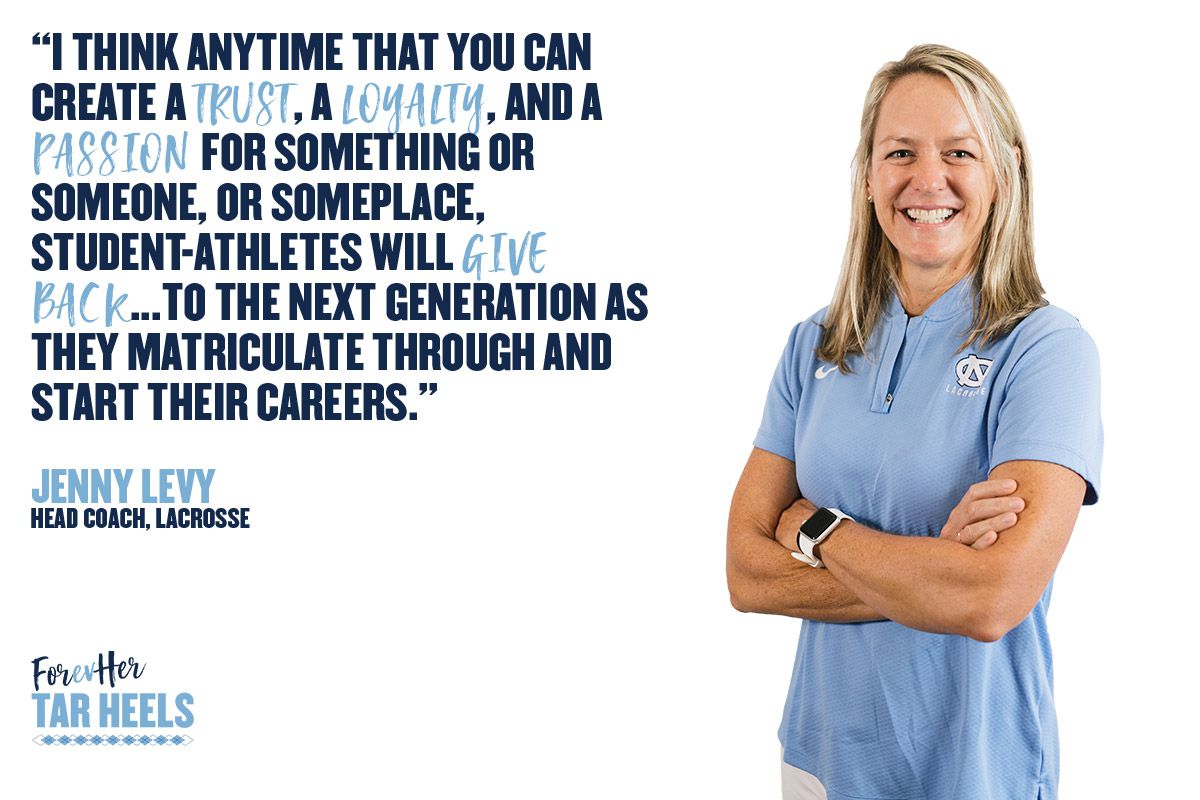 The only head coach in UNC Women's Lacrosse history, Jenny Levy ranks third nationally in Division I career wins with a record of 329-113, including two national championships in 2013 and 2016. She is a two-time national coach of the year and the head coach of the U.S. National Team.
Below is an excerpt of Levy speaking about what makes Carolina's women student-athletes unique and why supporting FORevHER Tar Heels now will help current student-athletes pay it forward in the future.
From my perspective of being here 25 years, the quality of the student-athlete that we are able to attract makes Carolina unique. Most of our women are not going to go professional in the sport that they're playing. When they come in, they want to be challenged both in the classroom and also on the athletic field, and that dynamic creates an opportunity for us to attract the best and the brightest. When we come in, we're dealing with what I call alpha women. They want to come in and achieve in the classroom. They're very driven, very goal-oriented, and then on the field, same thing.
You look at the women's field hockey program, women's soccer program, even our program, where you win national championships, yet we have over 50 of our team on the ACC Honor Roll. You've got 4.0 students, and you've got student-athletes going on in industries and careers that, really, they launch from Carolina – that's where they find their mojo, they find their confidence. But that's in the culture here at Carolina, where you're around excellence all the time. You see what all the different teams are doing, and it's just really high-end athletes that are coming in, and high-end people.
I think what we do well here and what the athletes learn, especially the female student-athletes, is they learn these skills that they take with them to the next platform, and they don't realize how excellent they are, and how elite they are until they get into the next part of their life – some sort of job experience – and they realize how well-prepared they are because of their experiences as a student-athlete at Carolina.
Any time that you can create an opportunity for student-athletes, it is transformational. It is of great value. When you come here as a student-athlete, you're thinking it's a four-year experience, you get an education, and then you're going to move on. But our goal is to create a transformational experience with them. We want our student-athletes to look back and say, not only did I compete at the highest level and get the greatest education, but they also helped me find my next step in life – and looking back, I learned how to network, I found a mentor, and it got my career started. And, they've been able to climb the ladder in whatever industry that they want to get into, but they always will track their success back to their experience at North Carolina.
I think anytime that you can create a trust, a loyalty, and a passion for something or someone, or someplace [student-athletes] will give back. And so, it's a self-fulfilling prophecy of serving and giving, and we have an opportunity now to get it started. As these guys matriculate through and start their careers and become successful, they'll pay it back to the next generation.