Crash Course: Golf Looks Forward to New Home at Finley
Tar Heels herald the impending overhaul of golf course, practice facilities and headquarters building
By Lee Pace, May 27, 2022
Carolina's men's golf team joins 29 other squads this weekend in the NCAA Men's Golf Championship at Grayhawk Golf Club in Scottsdale, Ariz. The five golfers representing Arizona State have been honing their games in the Thunderbird Golf Complex (underwritten in part by Sun Devil alumnus Phil Mickelson), which among many bells and whistles has a putting green with areas sloped at one, two, three and four percent. Florida State's players have been dialing in their short games on a 12-hole short course designed by Jack Nicklaus (whose grandson was a star tight end on the Seminole football team). Vanderbilt's players have had access to 36 holes at the Vanderbilt's Legends Club and a 21-acre practice facility with a bent grass putting green and two Mini-Verde chipping greens. And to work off some late night competitive steam, the Commodores can repair after golf to a team facility for some fiery ping-pong matches.
Lining up against the Tar Heels will be one highly recruited golfer from the state of North Carolina who told Carolina coach Andrew DiBitetto several years ago in the nicest way possible, "Coach, I love what you're doing here. But I just can't see my game improving here like I see it at some other schools."
So as the Tar Heels celebrate advancing to the national finals for the fifth straight year (only five teams have longer streaks) they are also heralding the impending overhaul of UNC Finley Golf Course and their team practice facilities and headquarters building. The golf course closes in October and will reopen late summer of 2023 with renovated greens, tees and bunkers, two new holes and an expansive new practice facility for the men's and women's golf teams – with a site earmarked for a new team building to come in the second phase of the project.
"We have some serious catching up to do when it comes to our golf course and, most importantly, when it comes to our facilities," says DiBitetto, who's finishing his fifth season directing the Tar Heel program. "Is our existing facility good? Yes, absolutely. Can we do better? Absolutely. This project has been on the horizon for several years. It's the next big step for us to take."
"This project is a game-changer for us in recruiting," adds women's coach Aimee Neff, who's coming off her first year in Chapel Hill that saw her team qualify for the NCAA tournament. "Putting a golfer in every possible situation they'll encounter in competition is so important. We'll be able to do that as never before."
Finley Golf Course originally opened in the summer of 1950 following grants of land from University professor and noted botanist William Coker and money, materials and labor from Raleigh-based construction magnate A.E. Finley, with golf architect George Cobb creating the holes from forested land just southeast of campus. At one point in the early stages, project visionary Chuck Erickson, the athletic director at Carolina, was referring to the new course as the "Finley-Coker Golf Course." That facility served the varsity golf teams and local golf market until the late 1990s, when Tom Fazio was hired to essentially blow up what was there and create a new course with modern agronomy and drainage. The new UNC Finley opened in the fall of 1999.
Part of the new initiative addresses the problems of a 23-year-old course built before the advent of heat tolerant Bermuda putting surfaces. Most premium private clubs and daily-fee courses in the so-called "transition belt" in the mid-Atlantic, over the last decade, have transitioned from bent grass to newer strains of Bermuda that hold up well in the increasingly hot late summer months (Duke University Golf Course, Hope Valley Country Club and Old Chatham Golf Club among its neighbors to have done so). Regulars at Finley have known over the last decade that beginning in mid-July the greens would be soft and bumpy as workers worked to keep them alive during the heat.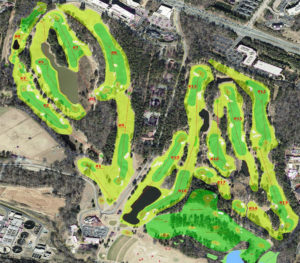 "There is always an evolution, and some would call it a revolution, in terms of grasses to bunker construction and maintenance to the drainage equipment under the greens. It's important we bring all of that up to speed," says John W. "Johno" Harris III, an early 2000s Tar Heel golfer who is contributing the expertise of the Charlotte-based Lincoln-Harris commercial development and construction firm run by Harris and his father, Johnny Harris, the majordomo at Quail Hollow Club in Charlotte.
The second major component of the golf course project is finding two new holes to replace the current 10th and 11th, which will be abandoned and turned into a practice enclave for the men's and women's golf teams. The current front nine as it sits to the east of Finley Golf Course Road will become the new back nine, and holes 12 through 18 on the west side will now become the starting nine, with two newcomers.
The first new hole will follow the current par-three 14th hole. It will be a short, uphill par-four running north and will reconnect with the current par-four 15th hole. The ground slopes sharply from left to right and the fairway and green will be heavily bunkered. Long hitters will have the option of driving the green or having to surgically place a long iron into a heavy-canted fairway with an uphill approach to an undulating green.
"Short par-fours have become a 'thing' in golf," says Carolina Athletic Director Bubba Cunningham. "Just look at the 17th at Southern Hills in the PGA Championship. That was a lot of fun to watch."
Adds DiBitetto, "We see holes like that more and more. There's one this week at Grayhawk. These kids today are all about length. A short par-four that requires strategy and placement and has a risk-reward element is a great change of pace."
Golfers will play that new hole (falling as No. 4), then the par-four No. 5 (existing 15th). The second new creation will be a par-three carved from land near the existing 15th green and running uphill toward the 17th green. The area comprising the double-level current 17th green complex will be redesigned to accommodate two greens. After playing the new sixth, they'll follow the existing routing on what will be new holes seven through nine.
The design changes are being directed by Love Golf Design and its founder, former Tar Heel golfer Davis Love III (1982-86) with assistance from company president Mark Love, also a Carolina graduate (1988) and former Tar Heel golfer, and lead architect Scot Sherman. One of DiBitetto's missions upon taking the job in 2017 was to reengage former Tar Heels like Love on a more consistent basis. Love in 2018 committed to underwriting the Davis Love III Scholarship for Men's Golf, and bringing Love's firm into the loop to coordinate the Finley redesign was another offshoot of the relationship.
"Andrew reached out to Davis when he took the job, and they've had many conversations over the years about many elements of the program," Mark Love says. "The concept of a practice facility and how to enhance that came up, and one idea led to another. Little by little, the ideas kept evolving."
The Tar Heel men's and women's golf teams have been headquartered for two decades in the Chapman Center at the east end of the Finley practice range, with a private hitting area and short game complex just out their door. But the quality of locker room, practice, physical training and short-game facilities at rival institutions in college has far passed the Tar Heels by.
This phase of the Finley overhaul includes taking the acreage where the current 10th and 11th holes are and creating a state-of-the-art practice complex – with a short course, a variety of bunkers and targets, and opportunities to create all manner of on-course simulations that take into account weather, wind and sun direction. The second phase of the project will include a new team building and coaches' offices situated currently on ground running roughly from the current 10th tee toward the 11th green.
"College golf has changed since I was there and certainly since Davis was there," Harris says. "The fact of the matter is, the first question from the best junior players in the country is, 'Where will I practice, how will I get better?' Ultimately, they want to get to the PGA Tour. This is the infrastructure to get them there."
"It's been fun to reconnect to the program and Carolina," Mark Love says. "We were there when we were hitting balls off little pads and mostly dirt and had no team building. We both lived in the clubhouse at one time or another. I'm excited to watch this project evolve."
Meanwhile, the Tar Heels will attempt to snare their best ever NCAA finish next week in the arid expanses of Arizona. Carolina was runner-up to Oklahoma State in 1991 and third to Florida in 1993, a slender two strokes out, at a time when the NCAA was structured on an aggregate stroke-play format. Last year, they were eighth in stroke play qualifying and lost in the quarterfinals to Arizona State.
"Our men's and women's teams should be playing for national championships every year," Cunningham says. "The men's team has had another strong year. We're confident Aimee will have the women's team on track very soon. Our department and The Rams Club are supporting them with this new facility. The timing is working out perfectly."
This facility project will be fully funded by private donations – and the fundraising effort continues. Learn more about what you can do to help the Finley Golf Course Renovation project.