The Campaign for Carolina Athletics
Rams Club members are a vital part of the University's $4.25 billion For All Kind capital campaign. With the third largest goal of that campaign, Carolina Athletics seeks to raise $500 million in support of Tar Heel student-athletes through The Rams Club, focusing on four priorities: Scholarship, Facilities, Team Support, and the Annual Fund.
Scholarship Endowment
Scholarship is the foundation of opportunity.
Donors to the Scholarship Endowment Trust provide critical, long-term support for Carolina's athletic scholarship program. Scholarship donors provide the opportunities for approximately 500 gifted student-athletes annually to gain a world-class education while competing for one of the nation's top athletics programs.
More importantly, donors equip thousands of our student-athletes to be leaders and champions for a lifetime. For most, especially those who are first-generation college attendees, it is a life-changing experience.
To learn more about how you can provide the opportunity of a lifetime for future Tar Heels, including scholarship giving levels, view the brochure to the right, or contact Emily Stevens at estevens@ramsclub.com or 919.923.2246.
"Carolina is special. Everywhere I look, I see excellence. The student-athletes, the coaches, everyone at this University … they're working to get better every day. And they're doing it at such a high level. I love being challenged by the best, and I get that at Carolina."
Facility Projects
World-Class Student-Athletes need World-Class facilities.
Rams Club members also play a pivotal role in providing the world-class student-athletes at Carolina with world-class facilities in which to prepare and compete for championships. As part of the Campaign for Carolina Athletics, The Rams Club is underway with important facility projects that directly impact many of Carolina's 28 sport programs, and will benefit every student-athlete at Carolina:
Team Support
Team support helps meet unique needs of our programs.
Team support encompasses gifts to any of Carolina's team operating endowments, friends accounts and the Richard A. Baddour Carolina Leadership Academy.
Each sports program at Carolina has its own sports operating endowment. The yield from these endowments is made available to the coach to help meet specific needs not covered in the regular operating budget. While the overall campaign is focused on meeting the needs of all 28 teams, the Sports Operating Endowments allow donors to help individual sports programs to achieve the flexibility and autonomy they need to take advantage of unique opportunities in their sport.
Donors to Sports Operating Endowments provide coaches with the ability to make decisions that can affect their program in the near-term with their legacy gift. For more information on sport endowments, please contact The Rams Club at 919.843.2000.
Team support also includes donations to friends accounts, which provide an immediate increase to coaches' operating budgets to use at their discretion. Lastly, team support includes gifts to the Richard A. Baddour Carolina Leadership Academy, which develops, challenges and supports student-athletes, coaches and staff in their quest to become world-class leaders in athletics, academics and life.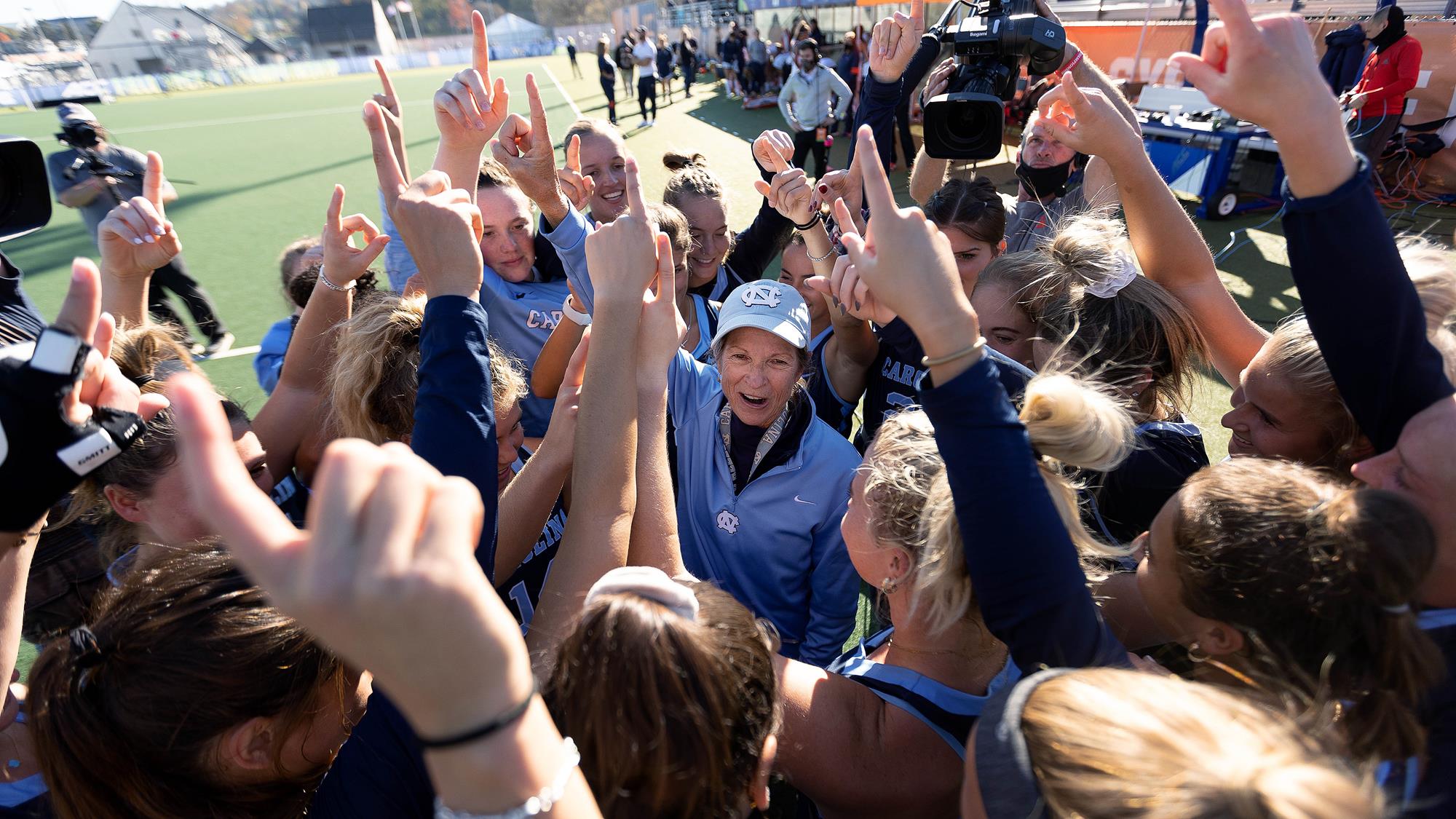 Note: Gifts to sport endowments do not activate Rams Club benefits as with Annual Fund or Scholarship Endowment Trust gifts. Priority points are accumulated, however, and become active with the activation of a regular Rams Club membership.
The Annual Fund
Every member provides opportunities through The Annual Fund.
Every Carolina fan can be a part of providing athletic and educational opportunities to student-athletes with memberships that start at just $100. As a part of The Rams Club, every member helps Carolina Athletics meet its most pressing needs.
Scholarship costs for Carolina student-athletes continue to present the most pressing challenge for Carolina Athletics. Scholarship costs continue to increase aggressively!
The total cost for athletics scholarships in 2001-02 was $6.3 million. In 2021-22, that cost reached $17.7 million – almost three times as much! The Annual Fund – made up of Rams Club members' annual gifts – has absorbed much of this significant increase. Carolina has long prided itself on offering a broad-based program that focuses on maximizing opportunities for outstanding young women and men to be a part of the Carolina Family. The challenges in keeping that commitment are significant but can be met with the help of all Carolina fans.
A broad-based annual membership program is imperative to the future of Carolina Athletics. Whether you give $100 or $50,000 annually, we need you to be a part of our effort to ensure our broad-based program and the opportunities it provides to Tar Heel student-athletes.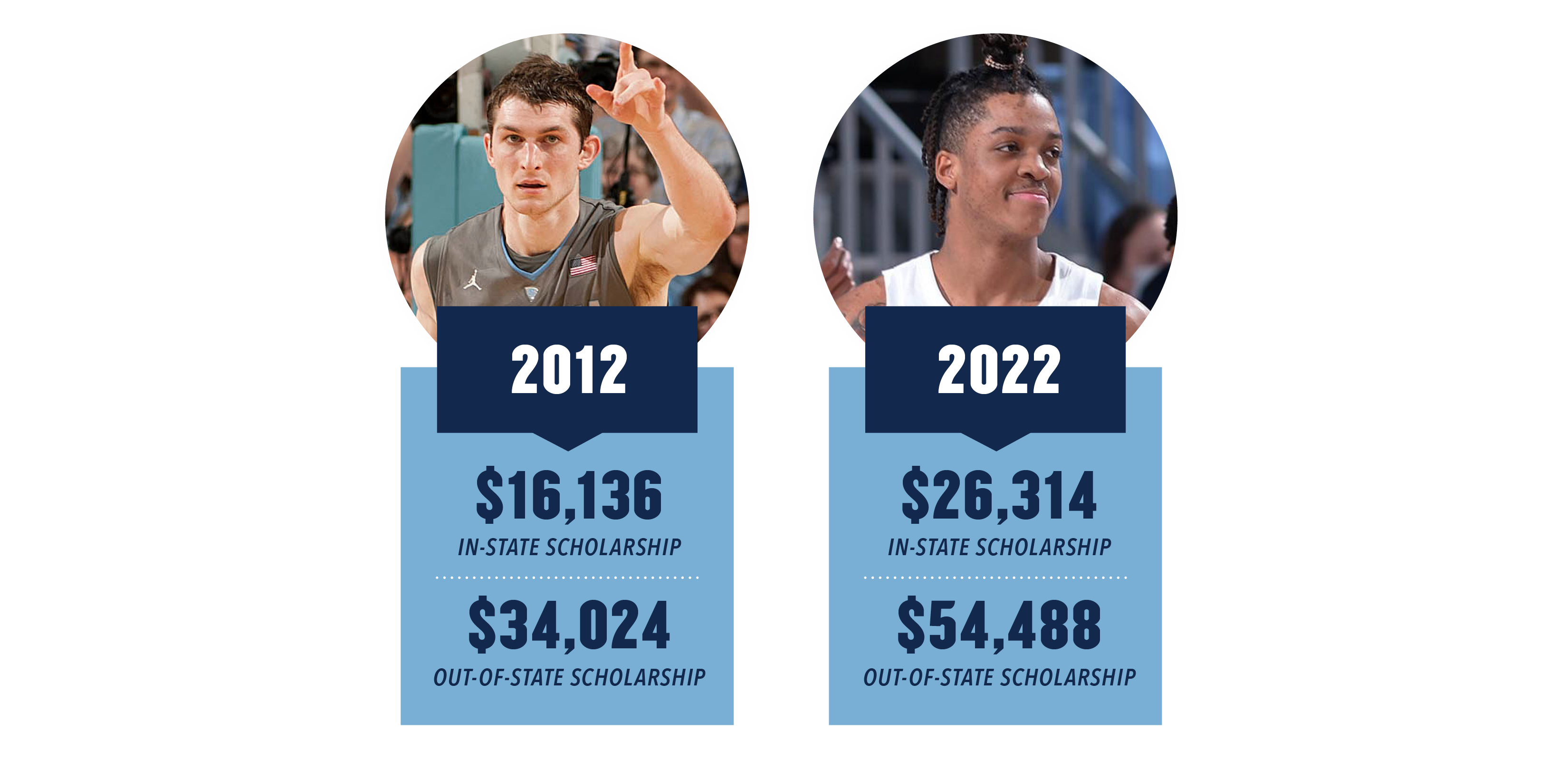 FORevHER Tar Heels
Championing Carolina's women student-athletes
As we look to chart a course for the next generation of Tar Heel women, you can support them through FORevHER Tar Heels − an initiative to build and inspire a Carolina community that champions and empowers our women student-athletes.