Born & Bred: The Next 50 Years
This story first appeared in the 26th issue of Born & Bred on the 50 Years of Carolina Women's Athletics.
By Andrew Stilwell, April 26, 2022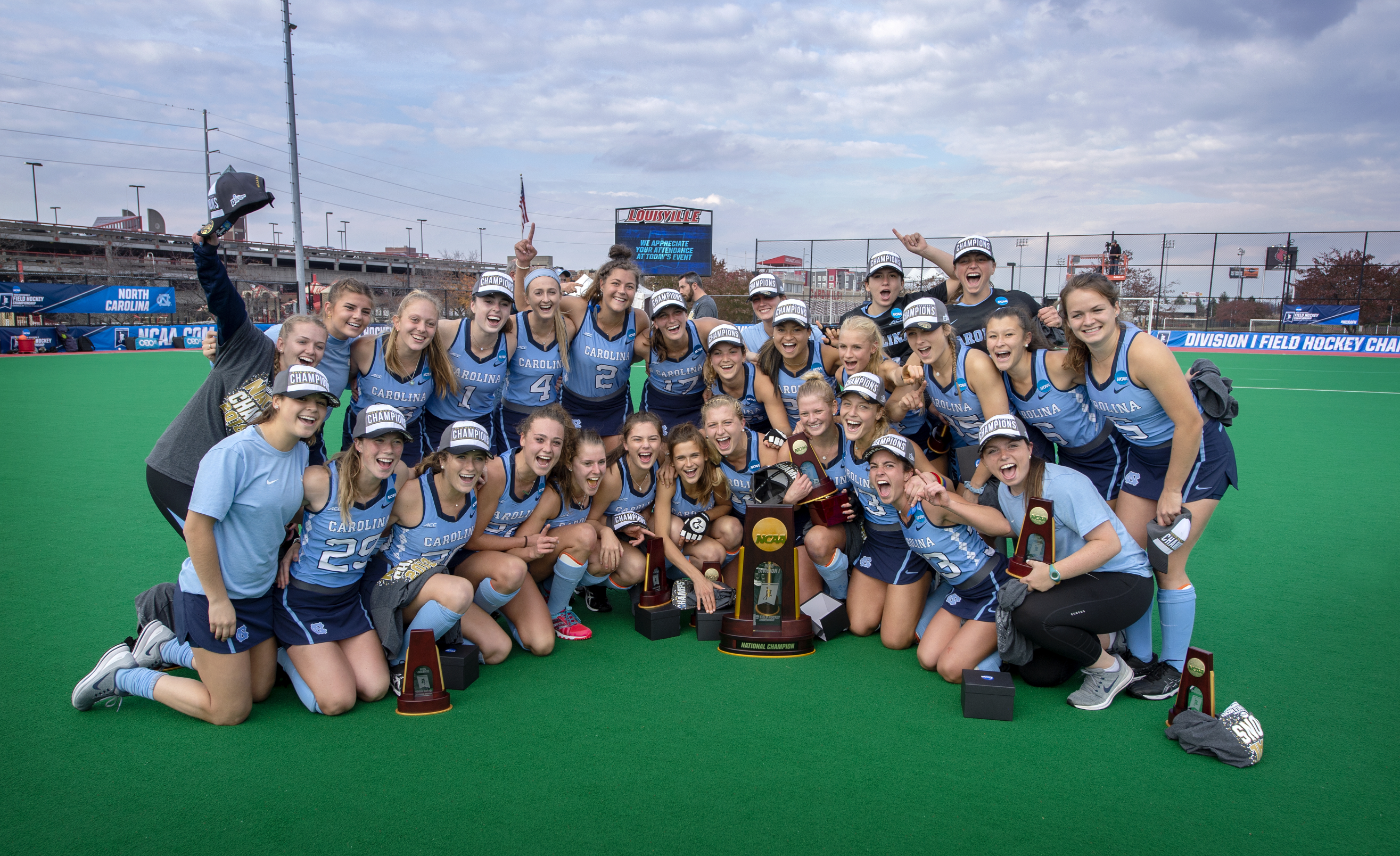 In 1997, 26 years after the first seven women's athletics programs – basketball, field hockey, volleyball, fencing, swimming & diving, tennis and gymnastics – began play at North Carolina, Dean Smith was asked about Carolina being considered a "basketball school" or "football school." Smith simply remarked, "North Carolina is a women's soccer school, we're just trying to keep up with them."
In the quarter century since Smith's iconic quote, North Carolina has proven that it's more than a "women's soccer" school – it's a "women's sports" school. The first 50 years of women's athletics at Carolina to put it in simple terms – have been very good. Originally part of the physical education department, those original seven programs have more than doubled to 15 competing in NCAA competition, and in the past 50 years, have amassed thousands of collective wins and nearly 40 national championships between them.
"I've seen an incredible revolution, not only at Carolina but also in my sport itself," said Anson Dorrance, head coach of the women's soccer program since 1978. "I've seen the transformation of UNC, a school that I played soccer for in the early 1970s, transform itself from not just an excellent university that competed very well in men's sports to a program that went from sort of zero to sixty in women's athletics. Now, every single year, we have one of the best women's athletic departments in the country."
A CHANGING LANDSCAPE
But as Carolina enters into the "next" 50 years of women's athletics, what will the future look like? Where do the Tar Heels fit in? Will the athletic successes to which the University and its fans have become accustomed continue? The landscape of women's college athletics has changed significantly in the past half century.
Prior to the establishment of Title IX in in the early 1970s, less than four percent of girls played a sport. Today, that number has increased more than 10-fold. More than 43% of high school athletes are female, and that number will continue to likely increase with continued expansion and opportunities. Before 1982, the NCAA only sponsored six sports for women: cross country, fencing, field hockey, rifle, skiing, and volleyball. Today, the NCAA sponsors 21 women's sports, with another six designated as "emerging" sports.
Media coverage has continued to expand for women's sports as well. ESPN, founded in 1979, now features eight cable television networks (including four whose primary focus is college athletics) in addition to multiple online platforms where fans can watch their team live via streaming. The "worldwide leader in sports" broadcast 15 women's championships in 2021 and the championship broadcasts of the four "most popular" women's college sports – basketball, softball, volleyball, and gymnastics – all saw audience viewership increases during the past year.
Another fairly recent addition to the college sports landscape is the ability for student-athletes to benefit from their name, image and likeness in ways that previously were unavailable. It's definitely no longer the 1970s. Times have changed, and will continue to change heading into the future.
The good news? Carolina is leading the way in women's athletics, and will continue to do so for years to come.
THE BUILDING BLOCKS FOR SUCCESS
Across Carolina's 15 varsity women's programs, there have been nearly 300 trips to the NCAA Tournament since 1982. Four women's programs – field hockey, lacrosse, soccer, and basketball – have won team national championships, while four more – tennis, track & field, swimming & diving, and cross country – have featured student-athletes who claimed individual national championships.
The championship pedigree was one of the most exciting factors for women's basketball head coach Courtney Banghart, who joined the program as its fourth-ever head coach in 2019.
"One of the main attractions I had to the University of North Carolina was the women's program in general," recalled Banghart. "You want to go to a place where success matters, not only in your sport, but in your gender's sport. It shows a commitment to women's athletics. If you look at the championships, but also the breadth and scope of the athletic offerings here, there's just no match."
Those successes on the court have led to successes in recruiting as well, with Banghart bringing in the third-ranked recruiting class in 2021, lacrosse seeing commitments from five of the top 20 players in this year's graduating class, and national team participants for both field hockey and soccer regularly choosing to play their college years as a Tar Heel.
In recent years, the facilities that house many of Carolina's women's sports teams have also received significant upgrades, making them as good as, if not better than, any other collegiate facility in the country, ideal for continuing Carolina's winning ways on and off the playing surface.
"We have transformed this campus into some of the best sport facilities in America," Dorrance said. "Carmichael is such a wonderfully intimate place for women's basketball, volleyball, and gymnastics. If you look at the new Karen Shelton Stadium, it's probably the premier field hockey stadium in America. You look at the new soccer and lacrosse stadium, which is incredible. With these facilities, I think we have an opportunity to continue to impact on the highest possible levels and all sports across the spectrum here at UNC."
A GROWING AUDIENCE
Where it was once quite uncommon to find live women's sports broadcasts on television, through advances in modern technology, nearly every contest for Carolina women's basketball, field hockey, lacrosse, soccer and volleyball will be available live this academic year, via traditional television on the ACC Network or streaming on options like ACC Network Extra or ESPN+.
Launched in 2019, the ACC Network televises more than 500 regular-season and tournament games from across the conference's 27 sponsored sports. Along with its digital platform, ACC Network Extra, the two combine to broadcast more than 1,500 ACC events each year, a number that will likely continue to grow in the future.
"For women's sports, there is lots and lots and lots of room for lots and lots and lots of growth," said Nick Dawson, ESPN's Vice President of College Sports programming in a 2021 interview. "If I were looking to invest in a genre of futures of American entertainment, women's sports would be close to the top of my list."
As coverage has expanded for women's sports in the ACC as well as nationally, the conference's television revenues have increased as well. With the recent addition of Comcast to the list of providers who carry ACC Network, increasing the television footprint by 90 million more homes around the country, the television revenues, along with potential audience for live women's athletics, will continue to grow which will be beneficial for all 28 of Carolina's athletic programs.
"For us to stay competitive, we've got to figure out how to support the 28 different sports here at a level where all of us can compete nationally," Dorrance said. "With Comcast jumping in to the ACC Network, which will certainly impact on the revenue, I think as that money gets distributed across sports, I think we have an opportunity to continue to impact on the highest possible levels and all sports across the spectrum here at UNC."
THE FUTURE IS BRIGHT
When looking at the list of coaches who have guided Carolina's women's programs over the past 50 years, there are certainly some notable names who have called Chapel Hill home for multiple decades. Dorrance has been at the helm of the women's soccer program for 43 years, while field hockey's Karen Shelton just celebrated her 40th season at Carolina. Softball's Donna Papa and volleyball's Joe Sagula both have spent 30-plus years at Carolina, and Jenny Levy is not far behind, entering her 28th year as the only head coach women's lacrosse has ever had.
Coaching home games in a stadium that bears her name is an honor that's not lost on Shelton, especially as her career winds down.
"It's very humbling and still a little surreal," said Shelton. "I'm proud and grateful to the people who made it happen, and I feel good about the legacy that I'll leave when I retire. I'm proud of this program and how we've grown over the past 41 years. We've grown with the times, and our facility is a reflection of that growth."
As Carolina heads into its next 50 years, the names at the top may change, but the successes are in position to continue. Of Carolina's 15 women's programs, eight have a coach who was hired in 2019 or later, including Banghart, who is excited for the future of Carolina women's athletics.
"Building a team at Carolina is special. Not only are you adding people to the family, but you're adding people to the brand," said Banghart. "The brand at Carolina is 'excellence' – it's a verb here. We're looking for people who are 'in.' Not only those who go to class, but are thought leaders. Not only those who work, but those who grind.
"When you get those kinds of people, you build something special."