Anson Dorrance: FORevHER a Tar Heel
October 5, 2019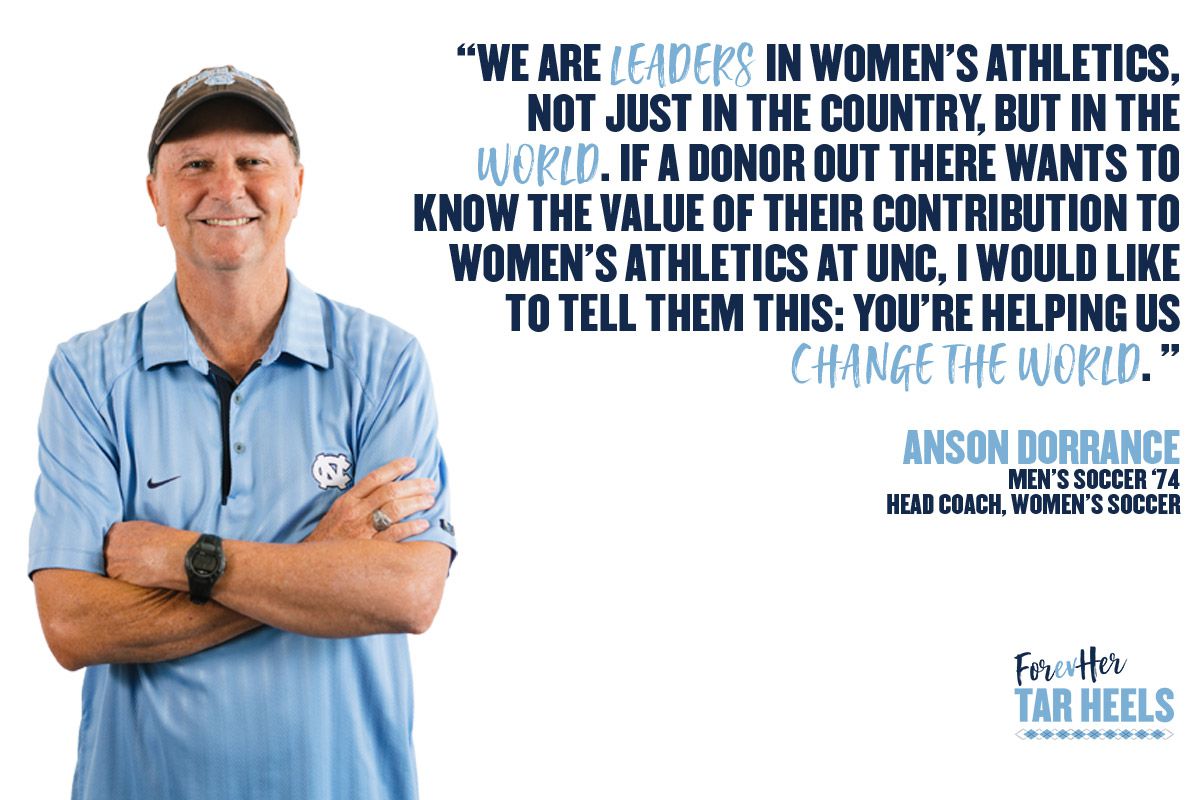 In his 43 years at the helm of Carolina's Women's Soccer program, Anson Dorrance has led the Tar Heels to 22 national championships, more than any other program in ACC history, men's or women's. He has coached 19 national players of the year and 59 players who have played for the U.S. Women's National Team, which he steered to the 1991 Women's World Cup title. Dorrance himself has been named national coach of the year seven times and is a member of the National Soccer Hall of Fame.
Below is an excerpt of Dorrance speaking about the beginning of the women's soccer program at UNC and why supporting FORevHER Tar Heels will help shape the future of student-athletes.
I think what makes us unique is we've had a great history success, and we've been a pioneer in so many respects. I remember back in the day when I was the very young men's soccer coach here. Bill Coby, my athletic director, pulled me aside and said, "Anson, you've got to come out and look at this women's club play. They've petitioned for varsity status. Get me a sense of who they are, what they might be able to become."
So, I went out there, and I remember they played on astro turf. It was the old field hockey stadium next to the law school. And I'm sitting there watching, and I said, "they're well organized, they're certainly committed. I think the coach has done a nice job."
I think he was asking me if we could make this a varsity team here at the University of North Carolina. I was pushing for it. I wasn't expecting to be extended an opportunity to coach it, and I was hoping the guy that had organized this, and young women that had petitioned for varsity status would be rewarded. And then all of a sudden at the end of my conversation, he said, "Anson, if you will coach this team, we'll make your part-time men's position full time, and I'd like you to coach both."
What has always set us apart are those athletic directors that decided, you know what? There's a Title IX law out there, and we're going to follow it. And, he started to add sports. He started to pour money into our side. And then all of a sudden, if you look at where our women's athletic department is compared to almost all the others, we're in a unique position. And I want to give full credit to the leaders that made these decisions early, like Bill Coby (that put me in a great position by the way).
Bubba Cunningham came in and decided that our facilities needed an upgrade. I'm sitting in this office overlooking this extraordinary palace – that's what we call it. Everyone knows exactly what the palace is, and that's where we go. I think we're pioneers. We've been led extraordinarily well by athletic directors through the years, and now we're in a remarkable position to continue to demonstrate that we're extraordinarily special.
What I would love the generous people out there to understand is that we're investing in the human being. So, when you make a contribution to a women's athletic team at the University of North Carolina, you're investing in the future of female leadership in this country.
We are leaders in women's athletics, not just in the country, but in the world. If a donor out there wants to know the value of their contribution to women's athletics at UNC, I would like to tell them this: you're helping us change the world. You're helping us change the status of women all over the world, and we take this charge incredibly seriously.