Equity Seating Chart & Parking Map
Please review the map of the Kenan Stadium seating chart and the table of parking prices below.
Rams Club members will secure their season tickets by making a deposit of $150 for each seat they want to purchase. That deposit is due by the ticket order deadline (and the Equity Seating deadline) of April 18. When selections are made during the Equity Seating process, a member can choose from any available seat in the stadium. Members will have the opportunity to opt for the best seats available for them, whether closer to the 50-yard line (more expensive) or in another part of the stadium.
Each seat selection will have a total ticket price as indicated on the zone map below. The balance due (difference between the deposit of $150 and the chosen seat) will be due upon confirming seats at the end of the member's selection process. Tickets will be delivered in August as in years past.
Reminder: Seats in premium seating areas are not subject to re-selection and should be purchased in full before April 18.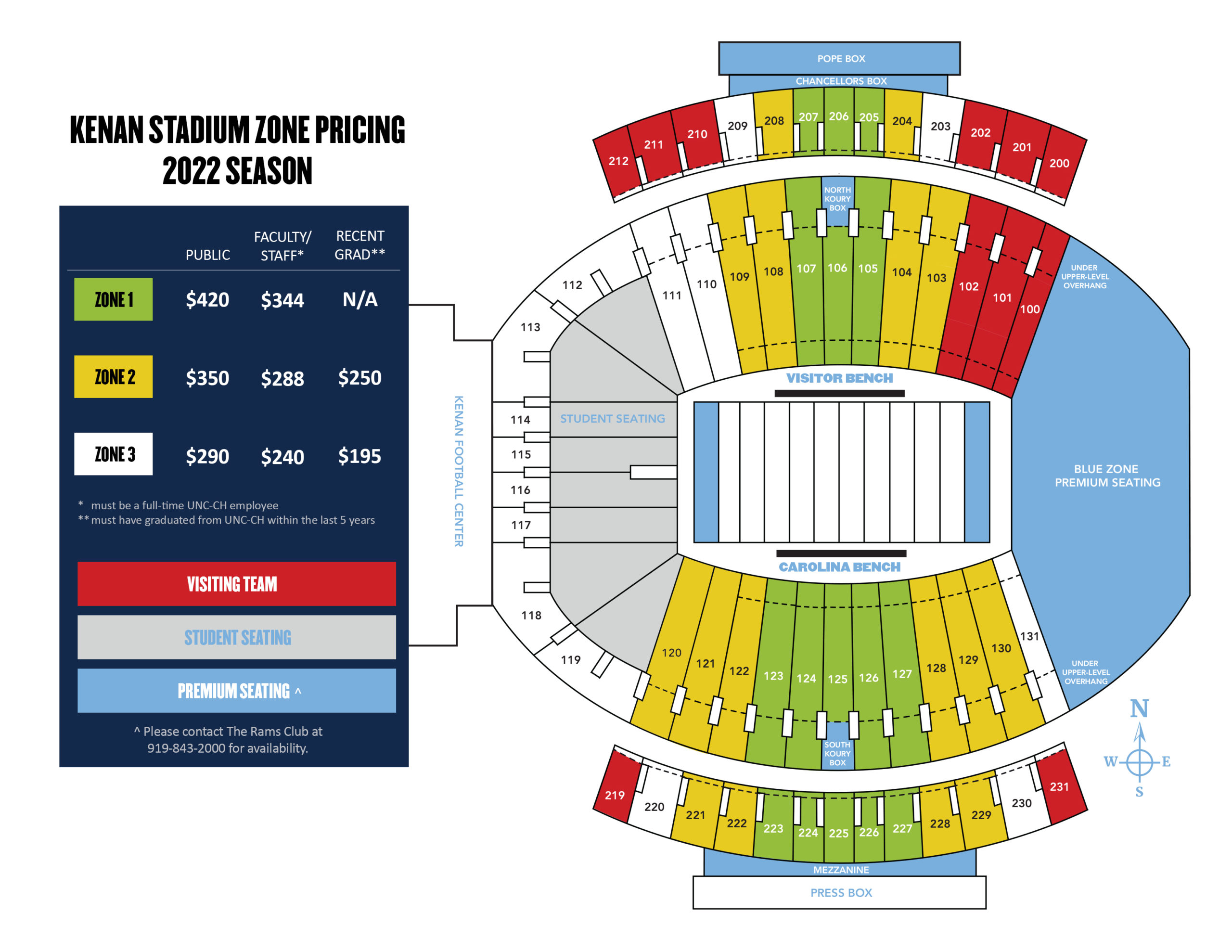 Zone Pricing for On-Campus Parking
Season parking passes will be available for purchase in 2022 for all members at the Big Ram giving level and higher with a season ticket purchase. Parking lots are also in a zone pricing format, with lots closer to the stadium having a higher purchase price.
The purchase of parking passes will take place at the member's selection time and will not be part of the orders due by April 18. Any balances due will be collected at the checkout process during selection.
| Lots | Season Price |
| --- | --- |
| Stadium Drive, Morrison Circle, Undergrad Library and RV | $300 |
| All others not listed above nor below | $150 |
| Bowles, Craige Deck and ACC | $60 |